---
Galway is unlike any other county in Ireland. Located on the west coast on the Wild Atlantic Way, Galway is Ireland's cultural capital with an ambience of its own. Here are some of our top picks for foodie hotspots in Galway.
The Kitchen has been working quietly away for 5 years, building it's reputation as a cool, casual eatery in the Galway City Museum. Expect to find local Irish beef roasted in house, or an Athenry lamb tagine with prunes and preserved lemon. The restaurant has also brought some really exciting food to the vegetarians of Galway, offering tofu dishes and lots of interesting flavour filled salads. For the weekend the brunch is always popular. Our sources tell us that the counter is always laden with great cakes, scones and tarts!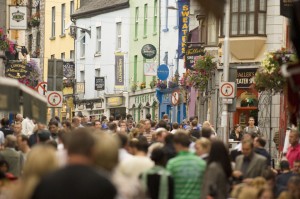 Loam is a Michelin-starred restaurant and wine bar located just off Eyre Square in Galway city. In the restaurant, they focus on modern ambitious cooking rooted in tradition. Seasonally driven, they work very closely with local farmers and producers, to get the products they need to reflect and capture the feeling and magic of the west of Ireland.
Builín Blasta Café & Bakery is located on the sea front of Spiddal Beach. Spiddal is a Gaeltacht area and all the staff in the café are bi-lingual and local. The name means Tasty Bread or Tasty Loaf, and the bread here is delicious and varied; browns, whites, foccacia, Brioche, muffins and the most delicious croissants. Builín Blasta is a find with a menu and such delicious food that you will be planning a return visit to Galway for a short break!  
Cava Bodega is an example of the international trend for good ethical casual food in a shared environment! Cava Bodega showcases the very best of Spanish food and wine, in particular tapas. A popular spot with the locals and tourists!
Oscars is a perfect bistro to enjoy a selection of real local foods in particular the Seafood freshly caught off the coast of Galway and sourced from local fishermen and the best of Galway's fishmongers. Sounds amazing!
Top picks for foodie hotspots in Galway