---
Wicklow is a beautiful county, there is no doubt about it, and with so many things to see and do on a short break you will be making a trip to 'The Garden of Ireland' a priority!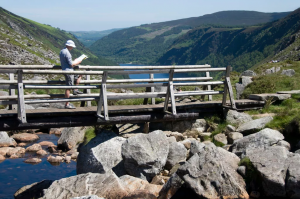 Powerscourt Estate is a must when on a short break in Wicklow and one that all the family will enjoy! It has one of the world's greatest gardens covering 47 acres and includes an Italian Garden, a Japanese Garden, a Pet Cemetery and a Tower Valley. Enjoy lunch in Powerscourt House at the Avoca Terrace Café overlooking the gardens and take in the breathtaking views of the gardens. You won't want to leave!
Glendalough is one of Ireland's most beautiful visitors' destinations. For thousands of years people have been drawn to 'the valley of the two lakes' for its spectacular scenery, history, archaeology and wildlife. Glendalough is a remarkable place that even though is very popular with visitors it is somewhat of a peaceful haven. Michelle Obama and her daughters enjoyed a private tour in 2013 when they visited Ireland.
Powerscourt Wate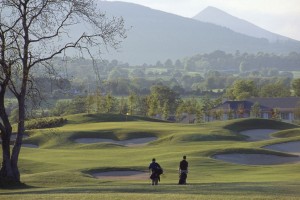 rfall is Ireland's highest at 121m (398ft.) and is just 5km from the Powerscourt Estate. It is set at the foothills of the Wicklow Mountains. The Waterfall is a popular location  for summer picnics and barbecues and there is also a playground for children. The park is home to lots of wildlife and some of the local residents include a Chaffinch, a Cuckoo, a Raven and the Willow Warbler. Some other inhabitants are the Sika Deer and there may be a red squirrel or two. There is a kiosk on site that serves everything from coffee and tea to hot-dogs and ice-cream (open in the summer months)
You have to make time to play a round of golf at Druid's Glen Golf Resort when visiting Wicklow! Druid's Glen has two of the finest golf courses in Europe and The Druids Glen Course, known to many as the "Augusta of Europe" is famous for hosting the Irish Open on four occasions. Golfers can enjoy the breathtaking setting, with views over the Irish Sea, on what was once the doorstep of the ancient Druids of Ireland.
Top things to do in Wicklow